Winter fishing: The frosty season doesn't deter us anglers from venturing out onto the water in pursuit of our favorite activity. Discover the secrets to staying comfortably warm despite the icy grip of snow and ice. Let's dive right in and answer the question: "How do you stay warm while fishing during the winter?". By Sean Paul Perez.
Winter Fishing: How to Stay Warm in the Cold
As the golden hues of fall fade away, our surroundings transform into a wintry wonderland. The trees have shed their leaves, and an icy wind sweeps across the waters I call home. Daytime temperatures hover just above freezing, while a delicate layer of ice crystals blankets the landscape. Admittedly, winter doesn't make it easy for us fishing enthusiasts. However, the rewards of fishing in winter are well worth the effort. Allow me to share some invaluable tips and tricks that keep me focused, warm, and undeterred by the cold.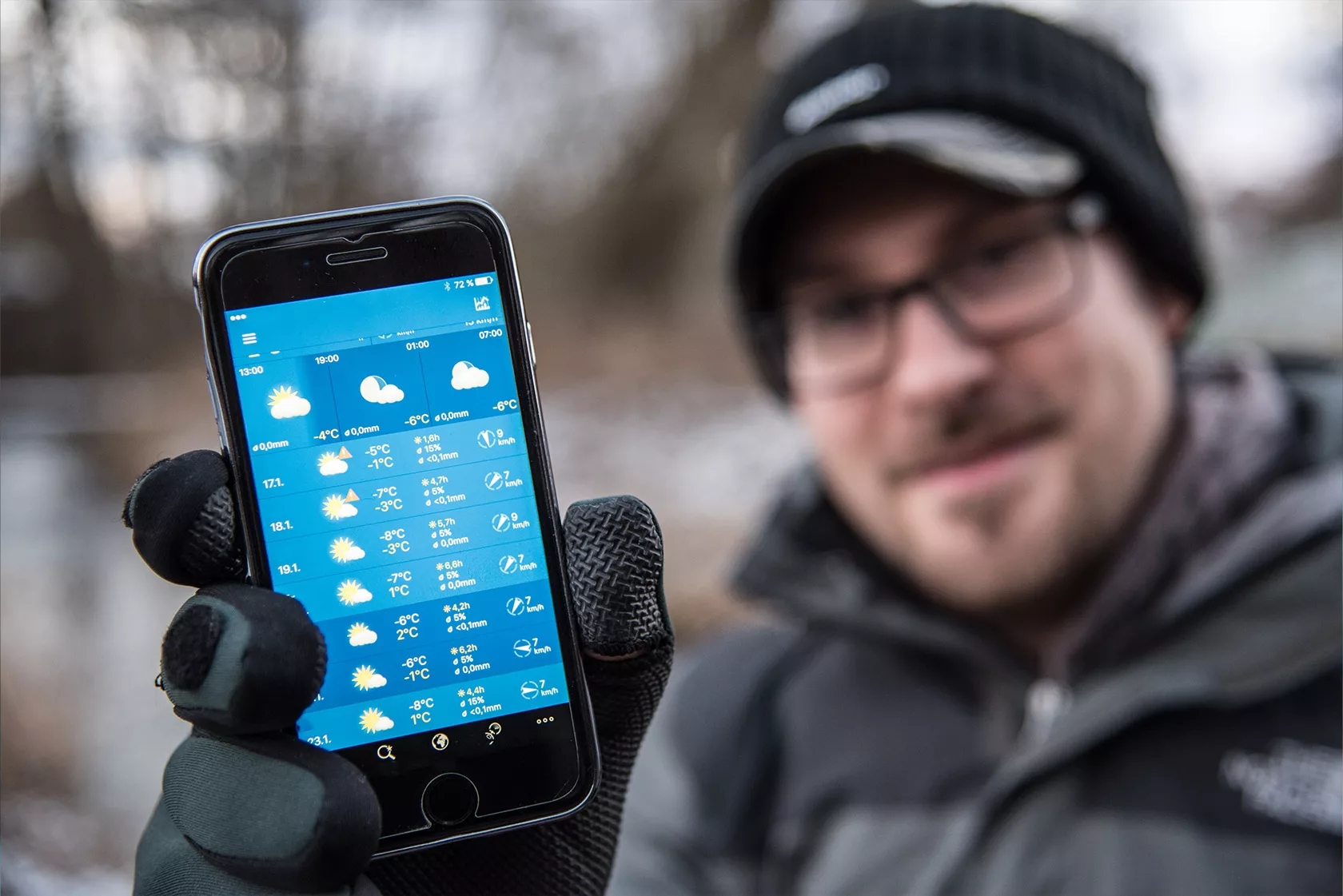 Embracing the frosty season, we anglers gear up and head to the water, undeterred by the chill of ice and snow. Here's how to ensure warmth and comfort throughout your winter fishing endeavors.
Smart Winter Clothing: The Key to Enduring Cold Conditions
To embark on a prolonged stay on the water, proper winter clothing is indispensable. Alongside a snug wool hat that shields your ears and retains precious body heat, the layering technique is crucial. Instead of relying on one or two thick layers, opt for multiple lightweight and thin layers. This approach provides better insulation against wind and weather. The layering principle, akin to peeling an onion, allows for easy adjustment as temperatures fluctuate without sacrificing warmth.
Start with a base layer of thermal underwear before venturing out into the icy cold. Thermal underwear effectively regulates body temperature, conforms comfortably to your body's contours, and wicks away moisture like sweat.
Ensure a snug fit, especially at the wrists and ankles, to retain warm air and keep the cold at bay. Look for thermal underwear that offers excellent mobility, with a comfortably tight fit and good stretch properties. This enhances comfort and prevents unnecessary shifting during quick movements. When purchasing thermal underwear, consider the materials used. The most common options are:
Merino Wool: A high-quality natural fabric that naturally absorbs and dissipates moisture, reduces body odor, and possesses antibacterial properties. Merino wool is the most expensive option but offers unparalleled performance.
Full Synthetic (Polyester): This lightweight fabric dries quickly, doesn't absorb moisture, boasts high elasticity, and is more affordable compared to other options. However, it promotes odor retention.
Blended Fabric (Cotton-Synthetic Mix): This blend offers a pleasant wearing experience, durability, easy maintenance, breathability, slight odor control, and a good price-performance ratio.
Warm Fingers for Successful Fishing
Invest in good-quality gloves to ensure optimal dexterity and protect your hands from the numbing cold. Winter fishing without adequate hand protection quickly becomes unbearable. Choose gloves that not only provide a water-repellent layer but also allow breathability to prevent moisture buildup.
Look for gloves with retractable finger caps, which prove invaluable when tying knots or threading the line. These practical gloves strike a balance between warmth and functionality, enabling you to tackle various tasks without compromising comfort.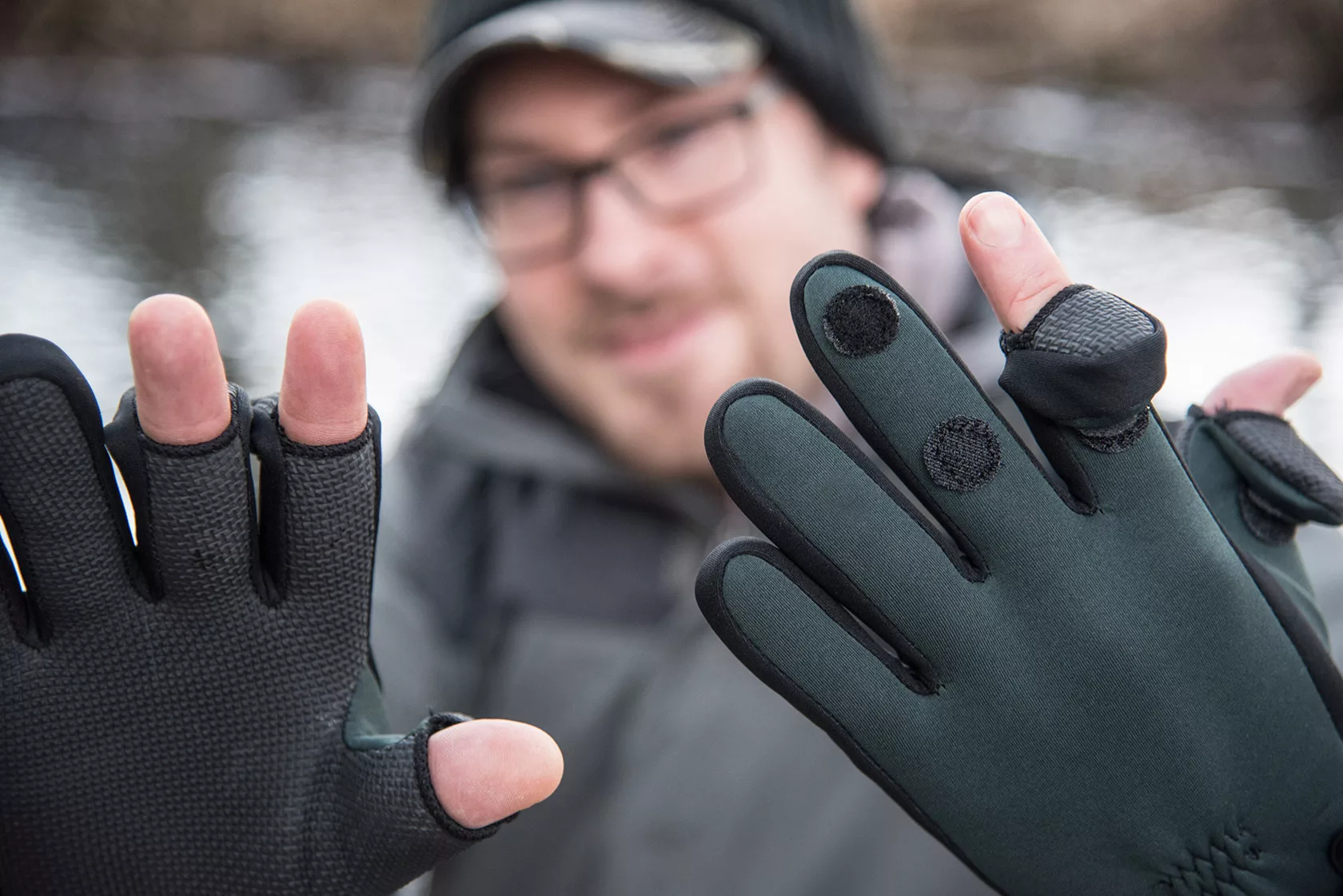 Wool: A Reliable Ally for Warm Feet
When it comes to winter fishing, don't overlook the importance of proper footwear. While we often invest in top-notch winter jackets and pants, we sometimes neglect the crucial layer that shields our feet. Socks play a vital role in protecting our feet from extreme weather conditions such as water, snow, frost, or ice. As an ardent cold weather angler, I've tested various sock models and found that socks made of merino wool offer exceptional performance. Merino wool contains natural lanolin, a waxy substance with antibacterial properties. Not only is merino wool pleasantly soft and non-itchy, but it also effectively regulates body temperature, keeping your feet warm and comfortable.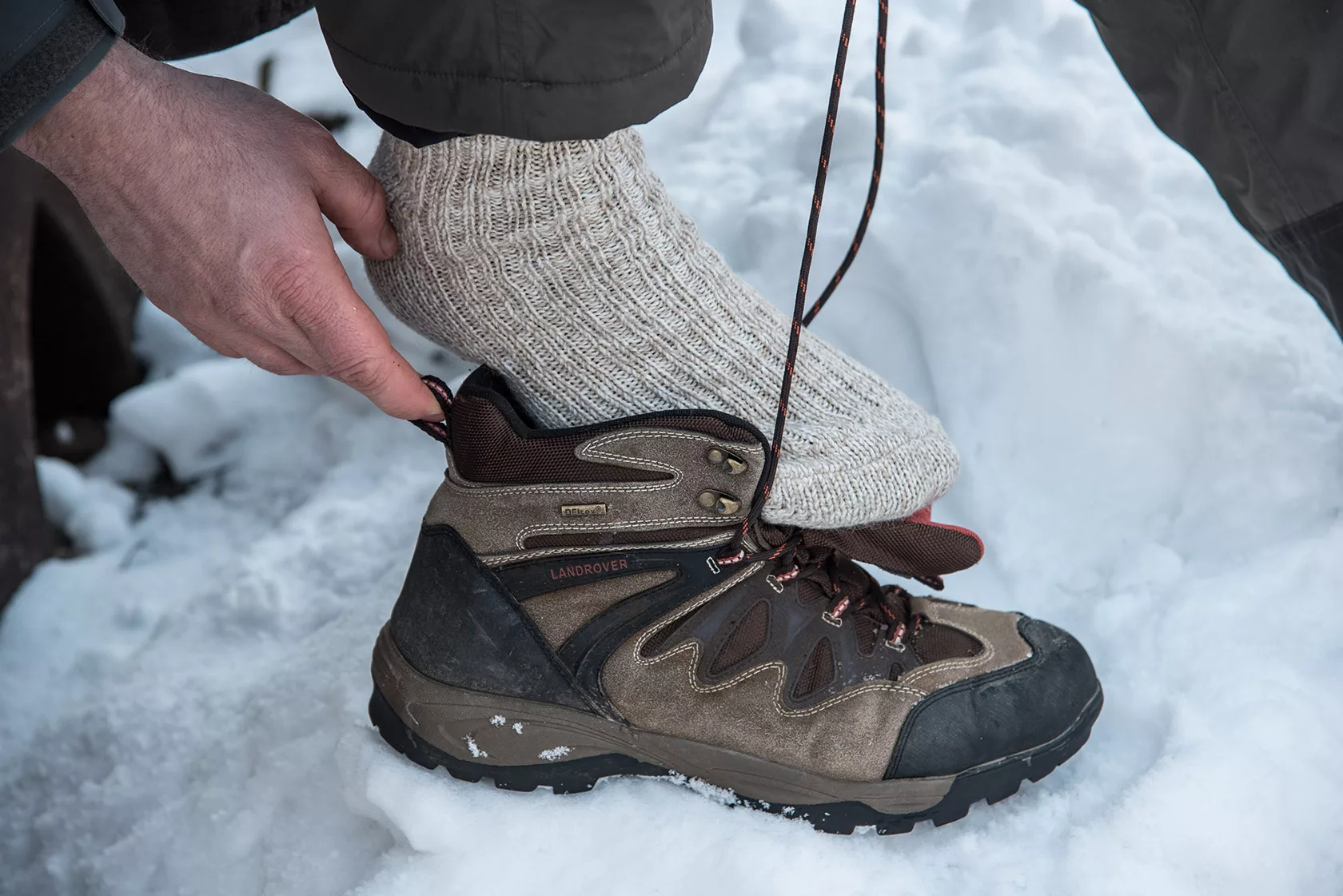 Finding The Right Shoes
When selecting winter footwear, it's important to consider the warmth rating. While there are no standardized criteria for evaluating warmth, manufacturers often provide *temperature ratings for their products. For example, a rating of 0 to -20 degrees indicates that the shoe will keep you comfortably warm within that temperature range. However, be mindful that below -20 degrees, your feet may freeze, and above 0 degrees, the shoe may become too warm.
| | |
| --- | --- |
| Features | What matters for a shoe |
| Warmth | Good insulating inner lining, thick rubber sole, recommended manufacturer's *temperature range |
| Comfort | Adequate padding, comfortable sole, stable and secure lacing |
| Grip | Deep, pronounced and non-slip tread, sturdy rubber sole |
| Waterproofing | Waterproof uppers (leather, synthetic), sewn and waterproof tongue, waterproof sole |
| Weight | Follow manufacturer's instructions. Rule of thumb: as light as can be, as robust as possible |
| Ankle Protection | Firm, supportive upper, high, tight and secure lacing |
*There are no standardized criteria for rating the warmth of winter shoes. However, manufacturers often assign "temperature ratings" to their products. For instance, a rating of 32°F to -4°F (0°C – -20°C) means that the shoe will keep your feet comfortably warm within that temperature range. Below -4°F (-20°C), your feet may freeze, and above 32°F (0°C), the shoe may become too warm.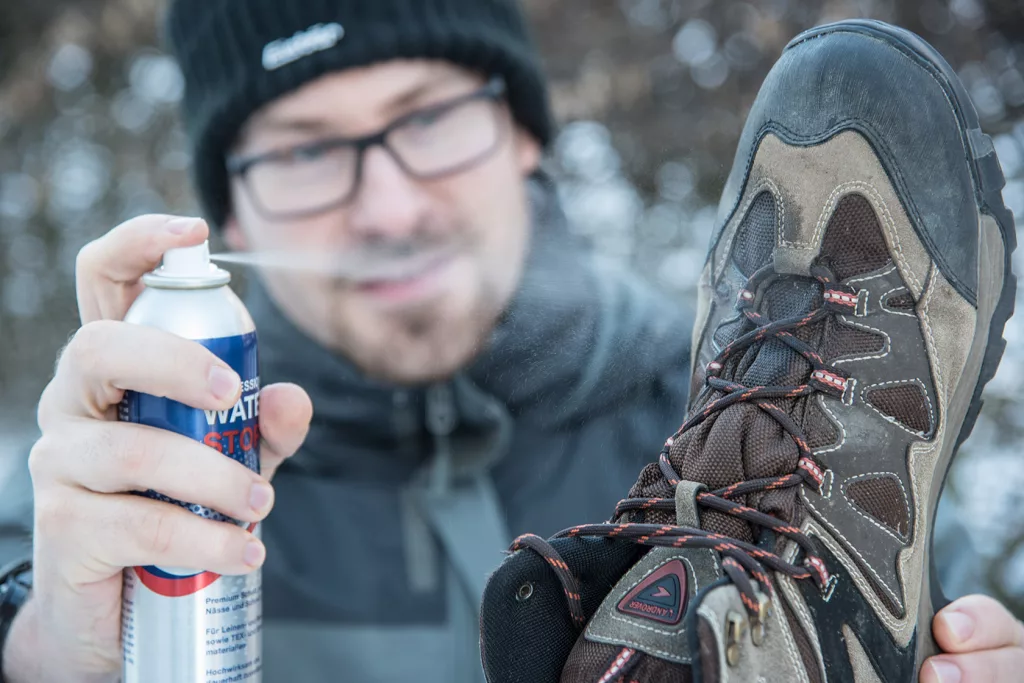 Insoles: Additional Protection Against the Cold
Practical insoles can be found at local shoe stores or drugstores at an affordable price. Simply open the packaging and insert them into your shoes. Once exposed to air, the ingredients, including iron powder, salt, water, and activated carbon, react and generate a pleasant and lasting warmth within minutes. These insoles provide up to eight hours of heat, ensuring warm feet throughout your winter fishing expedition. Don't underestimate the difference warm feet can make!
Pocket Warmers: Combatting Cold Fingers
For those prone to cold fingers, pocket warmers come to the rescue. These handy warmers contain a crystal-like solid that, when activated, provides hours of comforting warmth. Simply immerse the warmers in boiling water until the contents liquefy, then allow them to cool before use.
To initiate the heat release, bend the built-in metal plate, and within seconds, the contents solidify, emanating a cozy warmth that revitalizes your hands and fingers. If quality and extended heating performance are paramount, consider products from Heatpack, which utilize activated carbon instead of gel pads.
Heat Belts: A Great Tip for long-lasting Warmth
Here's a great insider tip: heat belts, commonly used to alleviate muscle tension, are a go-to solution for anglers facing icy temperatures. Wrap the heat belt around your abdomen or lower back to experience soothing warmth that enables you to prolong your time on the water despite the cold.
With these valuable tips, you can confidently embrace winter fishing while staying warm and comfortable. Don't let the cold weather dampen your enthusiasm for angling—prepare wisely, dress appropriately, and enjoy unforgettable fishing experiences even in the midst of winter's chill.
Did You Know? 3 Fishing Tips for Keeping Warm
Layer up: Wear multiple layers to trap heat and adjust clothing as needed.
Protect extremities: Keep your hands, feet, and head warm with gloves, insulated footwear, and a hat.
Stay hydrated and fueled: Drink fluids and eat high-energy snacks to maintain warmth and energy levels.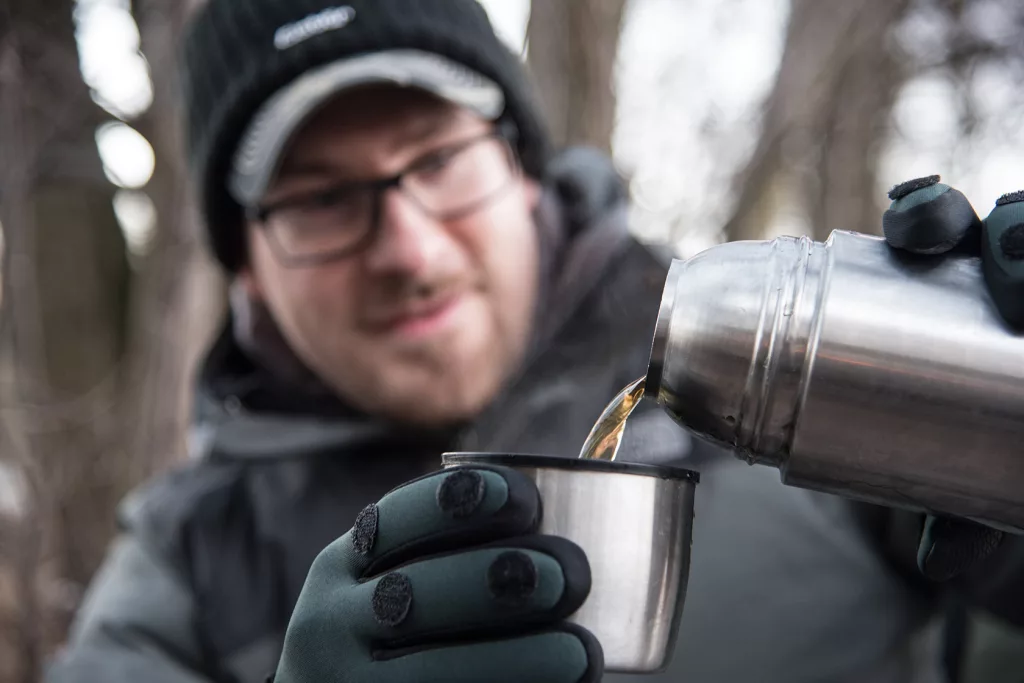 Conclusion
In conclusion, with the right preparation and gear, winter fishing can be an enjoyable and rewarding experience. By following the tips shared in this article—layering clothing, protecting your extremities, and staying hydrated and fueled—you can stay warm and comfortable while pursuing your passion for angling, even in the coldest of conditions. So bundle up, embrace the winter weather, and make the most of your fishing adventures. Happy fishing!
Happy fishing, tight lines and enjoy the great outdoors!
🐟 Amazing Links
Ready to discover the surprising world of largemouth bass? Check out our article on "50 fun and shocking facts about largemouth bass" and get hooked! Link: 50 Fun Facts About Bass
Want to make sure the bass you catch survive and thrive? Learn the right way to catch and release them with our informative guide. Link: How To Catch And Release Bass
Are you curious about what largemouth bass eat? Our article "What do Bass eat?" has all the answers and might just surprise you. Link: What Do Largemouth Bass Eat
📲 Catch us on Instagram
Get stunning photos, expert tips, and engaging stories that will take your fishing game to the next level. Don't miss out and follow us on Instagram today!